Consultation Flow :
I'm Looking for
Get Started Now
Our specialist will get back to you within 1 working day!
Indoor-fixed LED wall overall
This inside LED screen is set up for capturing the audience's attention, will be placed on the wall playing the advertising image or videos, LED wall placed inside as a medium could be seen all around the shopping malls, museums and festive sites, accepted by the public, meaning the impression of the product or brand. In the statistics sheets of specifications we attached, we take the brightness as a parameter(> 800nits one parameter for inside LED display) being divided into five types: P2.5, P3, P4, P5, and P6, however, the "type" here is usually standing for the viewing distance at the optimal experience. iFixed-A Series as we defined here stands for Indoor Fixed LED Display (Die-casting Aluminum Cabinet) and iFixed-B Series Indoor Fixed LED Display (Iron Cabinet). Die-casting aluminum LED display is molded at one stop craft to ensure the entity's flatness, the tolerance of range is effectively controlled under this way. LED display sign adopts the basic solution of all seamless technology to protect the image quality. Design sketch-up of layout is preferable for convenient installation, the typical configuration of LED wall panels make it connect in a tight way; lifting and lock alignment improves the sturdy ability of the whole structure. Standard cabinet size we are listing below will help you to know how many LED panels will be assembled for large LED display wall.


Indoor-fixed LED wall configuration
Mainstream indoor LED display is classified into P2.5, P3, P4, P5 and P6, The distance measurement between two lamp beads(pixel pitch) is respectively standing for 2mm, 3mm, 4mm, 5mm and 6mm. Part number you are able to refer to
iFixed-A Series Indoor Fixed LED Display (Die-casting Alu Cabinet)
iFixed-B Series Indoor Fixed LED Display (Iron Cabinet)
LL【Brand Name】-iF【Indoor Fixed】-A【A: Die-casting Aluminum Cabinet B: Iron Cabinet】-P2.5【Pixel Pitch】

Customize Your LED Display Screen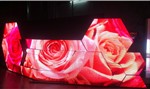 We can custom-make the LED display screen to request, only if you tell us your need, we will provide you a complete solution with quote. Please contact us.
Start Now

Indoor-fixed LED wall property
*Pixel Pitch: we could make the most professional solutions for image quality, you could also try our recommendation for planning in economy pricing and quality to be ensured at first.
*Grey level, contrast, refresh frequency and brightness: the compatibility counts for the combination of these parameters about the image or video displaying to the audience. Power consumption and lifespan are both calculated according to plenty of test and research.
*Weight: Die casting aluminum cabinet makes the LED display wall much lighter. Assume the other factors of this LED display sign to be calibrated at the same level, the hardness for both are totally different for molding.
*Heat dissipation: Due to the different texture of these two materials in molding, the different results we will get.
*Condition resistance and strength: The surface of aluminum is not susceptible to damage due to its dense oxide protective film.
Indoor fixed LED Display Screen Specs and Description
Indoor LED display is often placed in the retail store, sports facility, museums and festivals, trade shows, sports gym, and shopping malls. These LED display wall placed inside the building is for broadcasting the promotional premiere, conference files or public displaying and so on. That's saying, all of these indoor fixed LED large screen use special model of specs are containing P3, P4 & P5, banquet hall stage LED display sign would opt to use P4 and P5 full-color display. Rather than conference condition about LED display wall requiring relatively a better resolution of high definition, we would use P3 or high-definition of LED panels at some sites. The technology development of indoor LED display screen is similar to the development of LED display wall fixed outside, some points need your focus about indoor fixed LED wall display:
i. You can't skip over each issue and ignore it that resulting in the final failure of this indoor fixed LED display wall.
ii. When you have made the decision of the accurate size of LED display sign, don't try to change it easily or change to the other pixel pitch which could fail of lighting up the LEDs, however, we will not reject your needs over it because we are always centric of professional service.
iii. Each chapter of the procedures about fixed LED display screen is going with enough effort of patience and careful operation, we can't run out of emotion to make it go to next level, cause we have some loss prior to getting us stuck.
iv. After previous work setting forth the basic preparation, staff by your side, our sales rep and tech support, design people are going to work together to figure out the hardware configuration and detailed method to overcome the issues ahead of us.
v. You will be noticed to check the status of LED display signage in case some accidents could not be avoided and make an adjustment in time.
vi. Indoor fixed LED display wall is considered as collection-up of the complicate listing with couples of design work, technician's tips, sales rep's recommendations for price and quality, even the flight case will be customized for loading the LED display panels.
vii. We will focus on your requirement for improving your reflection in the final result, so much work needs to be finished together by both sides.