Consultation Flow :
I'm Looking for
Get Started Now
Our specialist will get back to you within 1 working day!
1Meter (3.3ft) V01 Complete Set Aluminum Channel
1Meter (3.3ft) V01 Complete Set Aluminum Channel
FSKU: LL-V01-1M
Please Select Buying Options:
16*16mm 1METER 3.3ft V-Shape Aluminum Channels0.47in width Recessed Back Corner LED Strip Channel System with Right angle Cover, Plastic Mounting Clips, transperant End Caps,Designed for 3528 5050 LED Strip Mounting.
Design by our-own factory and producing under the standard operation.Well package:cover the soft cotton cloth which is good for protect the product and put into the long and custom-designed cartons.
Can work with flexible or harsh led strip with width less the 12mm,such 3528,3825,5630 ect.
Can be applied for indoor light for accentlighting or decorative lighting:ceiling lighting,waredron,furniture,bed,etc.
Sold by 1 Mtere each set.
$1.88-$3.37
Datasheet Downlaod
16*16mm 1Mter V-shape LED Black/Silver aluminum Channel 3.3FT Right Angle Transperant / Oyster White Cover for Flexible or Rigid LED Strip light installaition with Milky White end caps and transperant Mounting clips.
Features:
Andonize Aluminum ,treated by special technic on the surface of aluminum,makes it more strongh and wear-resisting,anti-corrosion,enhance rigidity of metals,and tingt the surface color and makes it look more harmonious with the enviroment. Compared with other light installation material,Andonize Aluminum is better for lighting application,without any pollution,safe and without noice pollution,also it the ideal material for heat dissipation and ensure the led strip can work well and help the long lifespan.
As for the cover,can be transparent or milky white,the form one can makes the light more pure and even when it work with channel,you can see the led light source directly when turn it off and you can look into lighting source in a
Configuration: V-Shape
Channel: Extruded aluminum
Diffuser: oyster white cover, clear cover
Height: 0.63inch (16mm)
Width: 0.63inch (16mm)
Inner diameter: 0.47inch
Max. LED strip width: 12mm
Packages Include:
1x1M-PACK Includes:
1x 1M Aluminum Channel
1x 1M Lens
2x End Caps (1 with hole, 1 deaf)
2x Mounting Clips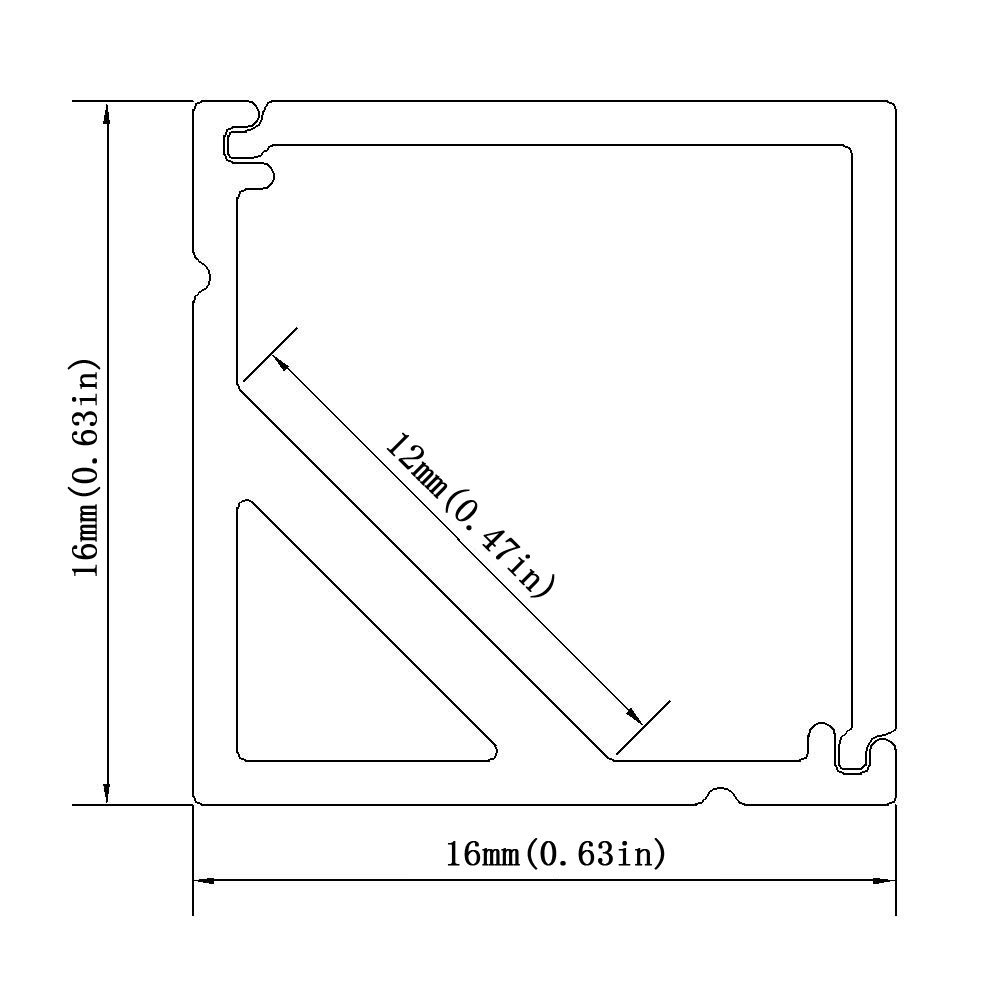 No reviews yet. Be the first one to write it.