Consultation Flow :
I'm Looking for
Get Started Now
Our specialist will get back to you within 1 working day!

Aluminum profiles for LED tape light fit seamlessly into grooves in cabinets, stairs, ceilings, closets, floors, and walls. The result is light precisely where you want it without the need for bulky, obtrusive light fixtures.
Aluminum channels are a crucial part of any linear LED fixture. They act as a durable, lightweight housing and again a thermal management source for LED strip lighting of any color temperature, color, or output.
In this page, you can find linear LED aluminum profiles suitable for surface mounting, recessed mounting, suspended/cable-mounting, and other custom applications.
*High-pressure tensile aluminum shell, GB matte oxidation, corrosion resistance, not easy to scratch.
*The appearance is generous and beautiful.
*High purity embossed or glossy aluminum reflectors provide more efficient light refraction and utilization.
*The design is scientific and reasonable, sturdy and durable
We are proud to carry the most varied selection of LED aluminum channels in 1Meter, 2Meter.
More flexible and smart is that you can get them in a complete kit or in separate components.

Customize LED Aluminum Channel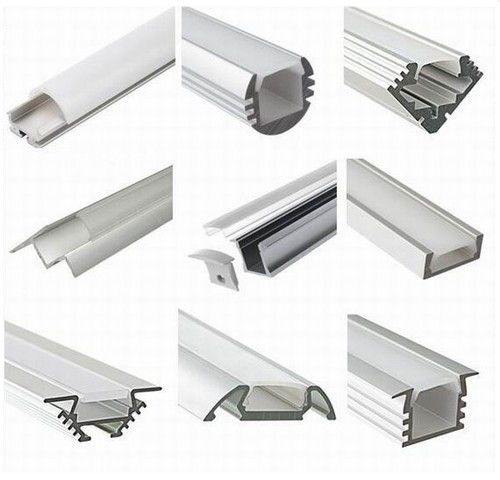 We can custom the Length & Style of the LED Aluminum Channel.
In our online store, we offer 1,2Meter versions, if you need certain lengths(Max. 3Meters) or style, just let us know your requirement or upload your drawing here, our specialist will follow up.
Start Now

LL-FSKU
Shape
Style
Length
Inner W*H
Outer W*H
Channel Material
Cover Material
Price
LL-U01-1M
U-Shape
U01
1.0M
12*6.5MM
23*9MM
Extruded Aluminum
PC/PMMA

$0.94-$3.95

LL-U02-1M
U-Shape
U02
1.0M
12*6.5MM
17*9MM
Extruded Aluminum
PC/PMMA

$0.78-$3.73

LL-U03-1M
U-Shape
U03
1.0M
20*7.5MM
30*10MM
Extruded Aluminum
PC/PMMA

$1.32-$5.48

LL-U04-1M
U-Shape
U04
1.0M
20*7.5MM
23*10MM
Extruded Aluminum
PC/PMMA

$1.32-$5.13

LL-U05-1M
U-Shape
U05
1.0M
20*20MM
36*24MM
Extruded Aluminum
PC/PMMA

$2.04-$7.13

LL-U06-1M
U-Shape
U06
1.0M
20*20MM
24*24MM
Extruded Aluminum
PC/PMMA

$1.96-$6.63

LL-V01-1M
V-Shape
V01
1.0M
12*12MM
16*16MM
Extruded Aluminum
PC/PMMA

$0.78-$4.13

LL-V02-1M
V-Shape
V02
1.0M
9*9MM
16*16MM
Extruded Aluminum
PC/PMMA

$0.78-$4.13

LL-V03-1M
V-Shape
V03
1.0M
9*9MM
18*18MM
Extruded Aluminum
PC/PMMA

$1.59-$5.48

LL-FSKU
Shape
Style
Length
Inner W*H
Outer W*H
Channel Material
Cover Material
Price
LL-U01-2M
U-Shape
U01
2.0M
12*6.5MM
23*9MM
Extruded Aluminum
PC/PMMA

$1.89-$9.69

LL-U02-2M
U-Shape
U02
2.0M
12*6.5MM
17*9MM
Extruded Aluminum
PC/PMMA

$1.57-$7.45

LL-U03-2M
U-Shape
U03
2.0M
20*7.5MM
30*10MM
Extruded Aluminum
PC/PMMA

$2.64-$10.95

LL-U04-2M
U-Shape
U04
2.0M
20*7.5MM
23*10MM
Extruded Aluminum
PC/PMMA

$2.64-$10.25

LL-U05-2M
U-Shape
U05
2.0M
20*20MM
36*24MM
Extruded Aluminum
PC/PMMA

$4.08-$14.25

LL-U06-2M
U-Shape
U06
2.0M
20*20MM
24*24MM
Extruded Aluminum
PC/PMMA

$3.92-$13.25

LL-V01-2M
V-Shape
V01
2.0M
12*12MM
16*16MM
Extruded Aluminum
PC/PMMA

$1.57-$8.25

LL-V02-2M
V-Shape
V02
2.0M
12*12MM
16*16MM
Extruded Aluminum
PC/PMMA

$1.57-$8.25

LL-V03-2M
V-Shape
V03
2.0M
9*9MM
18*18MM
Extruded Aluminum
PC/PMMA

$3.18-$10.95

LL-FSKU
Shape
Style
Length
Inner W*H
Outer W*H
Channel Material
Price
LL-U01-A-1M
U-Shape
U01
1.0M
12*6.5MM
23*9MM
Extruded Aluminum

$0.55-$2.13

LL-U02-A-1M
U-Shape
U02
1.0M
12*6.5MM
17*9MM
Extruded Aluminum

$0.47-$1.73

LL-U03-A-1M
U-Shape
U03
1.0M
20*7.5MM
30*10MM
Extruded Aluminum

$0.76-$2.73

LL-U04-A-1M
U-Shape
U04
1.0M
20*7.5MM
23*10MM
Extruded Aluminum

$0.71-$2.48

LL-U05-A-1M
U-Shape
U05
1.0M
20*20MM
36*24MM
Extruded Aluminum

$1.19-$3.98

LL-U06-A-1M
U-Shape
U06
1.0M
20*20MM
24*24MM
Extruded Aluminum

$1.11-$3.73

LL-V01-A-1M
V-Shape
V01
1.0M
12*12MM
16*16MM
Extruded Aluminum

$0.6-$2.13

LL-V03-A-1M
V-Shape
V03
1.0M
12*12MM
18*18MM
Extruded Aluminum

$1.08-$3.48

LL-FSKU
Length
Fit for
Cover Material
Available Cover Type
Price
LL-C-C01-1M
1.0M
U01/U02/V03
PC/PMMA
Oyster White / Clear / Frosted

$0.39-$1.48

LL-C-C03-1M
1.0M
U03/U04/U05/U06
PC/PMMA
Oyster White / Clear / Frosted

$0.55-$1.98

LL-C-V01-1M
1.0M
V01
PC/PMMA
Oyster White / Clear / Frosted

$0.47-$1.63

LL-C-V02-1M
1.0M
V02
PC/PMMA
Oyster White / Clear / Frosted

$0.44-$1.48

LL-FSKU
Fit for
Accessory Type
Material
Unit
Price
LL-ALP-EC01
U01
End Cap
Plastic
One Pair

$0.07-$0.23

LL-ALP-EC02
U02
End Cap
Plastic
One Pair

$0.07-$0.23

LL-ALP-EC03
U03
End Cap
Plastic
One Pair

$0.07-$0.23

LL-ALP-EC04
U04
End Cap
Plastic
One Pair

$0.07-$0.23

LL-ALP-EC05
U05
End Cap
Plastic
One Pair

$0.07-$0.23

LL-ALP-EC06
U06
End Cap
Plastic
One Pair

$0.07-$0.23

LL-ALP-ECV01
V01
End Cap
Plastic
One Pair

$0.07-$0.23

LL-ALP-ECV02
V02
End Cap
Plastic
One Pair

$0.07-$0.23

LL-ALP-ECV03
V03
End Cap
Plastic
One Pair

$0.07-$0.23

LL-ALP-MC01
U01/U02
Mounting Clip
Plastic
One Piece

$0.04-$0.13

LL-ALP-MC03
U03/U04/U05/U06
Mounting Clip
Plastic
One Piece

$0.04-$0.13

LL-ALP-MCV01
V01/V02
Mounting Clip
Plastic
One Piece

$0.04-$0.13

LL-ALP-MCV03
V03
Mounting Clip
Plastic
One Piece

$0.04-$0.13

LL-ALP-L-U01
U01
Corner Splicing Block
Aluminum+PC/Aluminum+PMMA
One Pair

$0.31-$0.98

LL-ALP-L-U02
U02
Corner Splicing Block
Aluminum+PC/Aluminum+PMMA
One Pair

$0.31-$0.98

LL-ALP-L-U03
U03
Corner Splicing Block
Aluminum+PC/Aluminum+PMMA
One Pair

$0.31-$0.98

LL-ALP-L-U04
U04
Corner Splicing Block
Aluminum+PC/Aluminum+PMMA
One Pair

$0.31-$0.98

LL-ALP-L-U05
U05
Corner Splicing Block
Aluminum+PC/Aluminum+PMMA
One Pair

$0.31-$0.98

LL-ALP-L-U06
U06
Corner Splicing Block
Aluminum+PC/Aluminum+PMMA
One Pair

$0.31-$0.98

LL-ALP-L-V01
V01
Corner Splicing Block
Aluminum+PC/Aluminum+PMMA
One Pair

$0.31-$0.98

LL-ALP-L-V02
V02
Corner Splicing Block
Aluminum+PC/Aluminum+PMMA
One Pair

$0.31-$0.98

LL-ALP-L-V03
V03
Corner Splicing Block
Aluminum+PC/Aluminum+PMMA
One Pair

$0.31-$0.98
Relative Project Solutions