Consultation Flow :
I'm Looking for
Get Started Now
Our specialist will get back to you within 1 working day!
BQ Series Strectched LCD Bar Screen 19.4'' LCD Display
| Outline Dimension | Active Area | Operation system | Resolution | Interface | Size | Brightness |
| --- | --- | --- | --- | --- | --- | --- |
| 49.7cm(L)x4.5cm(W)x12.1cm(H) | 478mm(H)x98mm(V) | Android6.0.1 | 1920x390 | USB| HDMI| SD card| Rj45 | 19.4 | 450cd/sqm |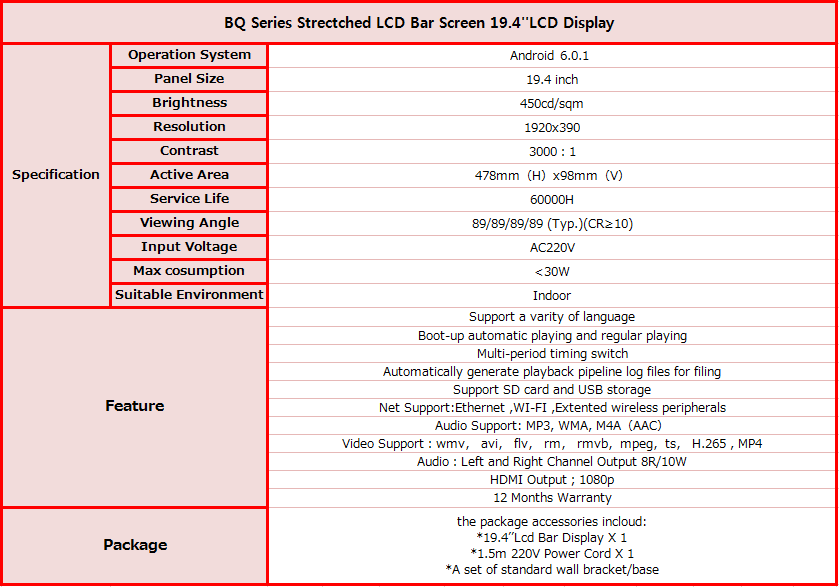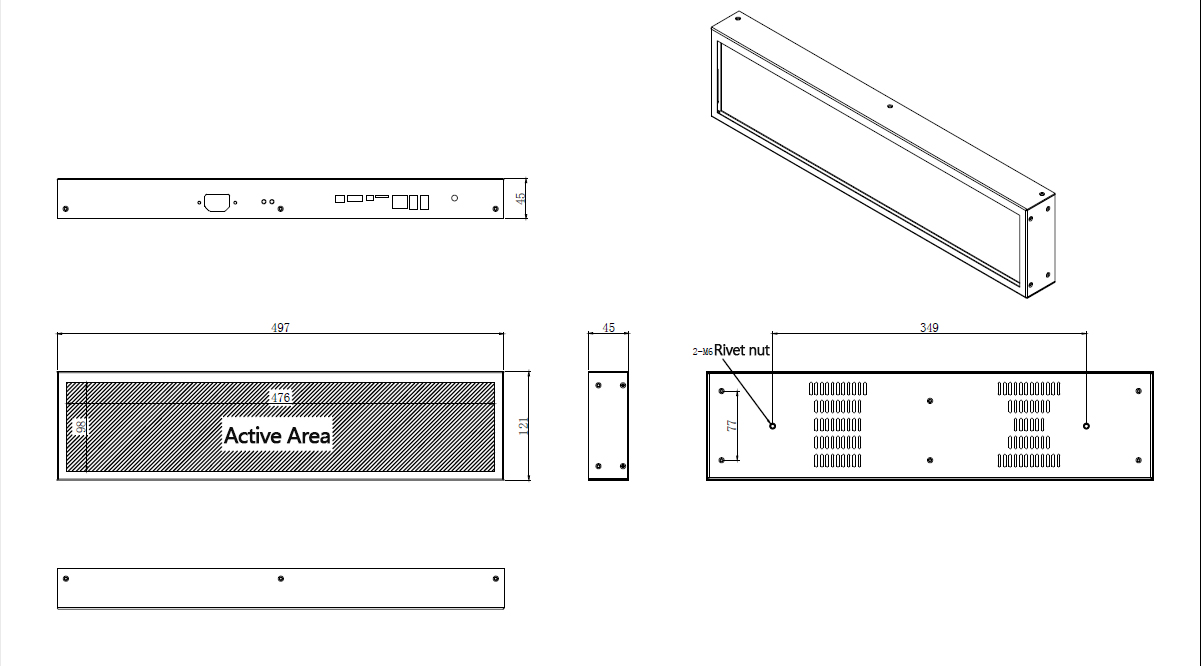 Notice
*If you want to make the video play in multi-screen way, you need use the screen-spilt software on computer.
*Using this screen with the software like Format Factory ,Photoshop can make the display effect better
*When you want to update the content,you need use SDcard or USBdrive
* If you need the screen play in vertical way,you need rotate the video or picture 90 on comptuer in advance,the contrallor can just rotate the menu but not the playing content.
Installation Notes
So much appreciate to you for choosing our company goods, in order to avoid some damage happens to products during the installation, there are some installation suggestion follows:
*Please put the hands in the two sides of the product while you lifting them and do not touch the Lcd screen directly or even put the power of lifting to the Lcd screen, because the screen is too thin to tolerate the strength and easy to be broken.
*Please do not stack products together while installing ,this Strectched Lcd Bar Screen can't be piled together without outfit.
*Please notice the + /- carefully when you connect the screen to the power supply.We have make the related marks in every cord, so please connect as the mark saying, if you connect this in opposite way,it may causes the product short circuit and even trigger a fire .
*Only the professtional ones can open this product's inner electronic device, unprofesstional operation may cause some irreparable damage or personel injury.So please do
not open this product without professtional ,ontherwise ,the consequences are at your own expense.
No reviews yet. Be the first one to write it.